Samsung Will Produce 4X More chips for Apple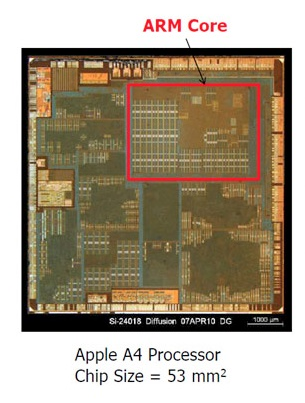 New report from Korea Times reveals that Samsung "has agreed with Apple to quadruple monthly shipments of its mobile AP chips to 20,000 sheets throughout this year from 5,000 last year". This information came from sources related to Samsung's suppliers.
According to Korea Times, that means that in 2011 a half of Samsung's mobile Application Processor chip capacity will be dedicated to Apple. Therefore, Apple becomes a bigger consumer of Samsung's chips that Samsung itself that produces similar chips for its smartphones and Galaxy Tab tablet.

"Samsung aims to chalk up multiple effects through the sales. For one, it will be able to strengthen its non-memory business by shipping fast and low-power chips to Apple. That's a very fine-tuned strategy."
It was also said that in order to fulfill its orders Samsung is building another $3.6 billion chip fabrication plant in Austin, Texas. Currently the company produces its processors in a factory situated near Seoul.
In the meantime, new Samsung's agreement with Apple was perceived by newspaper as "a major blow to local medium-size tablet PC makers".
Apple and Samsung have been partnering in producing not only Application Processors (which combine ARM CPU cores with mobile GPU cores and other components in one single chip), but also NAND and DRAM flash memory, LCD displays and other components. This is no wonder as Samsung is known as the world's largest producer of random access memory and flat panel displays. Last year Apple was the second's largest client for the company after Sony.

Leave a comment