Verizon started iPhone 4 launch countdown for existing customers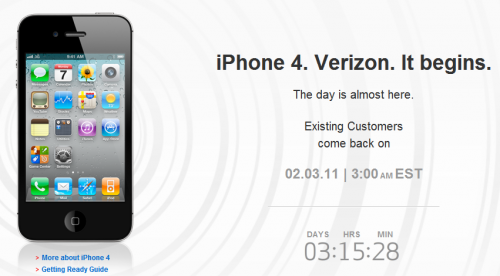 Few days remain before iPhone 4 will become available for preorder at Verizon's stores, and this week the carrier has already launched a teaser countdown page available for existing customers, which tells them to come at 3 a.m. Eastern on Feb 3.
Previously Verizon has also sent out emails to its business customers with a notification of 3 a.m. start.

Every existing customer who would like to have an iPhone will need to check with Verizon in order to verify they are eligible to do that.
So starting with Feb. 3 customers will be able to preorder 16GB iPhone 4 model for $199 and iPhone 4 with 32GB capacity will cost $299. Both of the models will be offered with a 2-year contract. As we reported earlier, it is probable that unlimited data plan will be offered for $29.99 per month, and the cheapest voice plan for the iPhone 4 will cost $39.99 per month. Additional $20 may be paid for 2GB of data tethering.
One Verizon executive unveiled that above-mentioned unlimited data plan will be offered only for a limited time, and then it will be replaced because of the upcoming tiered pricing structure.
Officially iPhone 4 with CDMA support will go on sale on Feb. 10. Besides the iPhone, Verizon will also offer cases for the device. While the design of CDMA-enabled iPhone was slightly changed (new antenna design that caused the mute switch to be insignificantly moved), Apple offers universal bumper cases for both existing models of iPhone 4.
This Tuesday Francis Shammo, who is Verizon Chief Financial Officer, assured that the launch of the iPhone 4 is very important for the company so it will be made without a hitch.
"We are not going to have any flaws on the execution of the iPhone launch".

Leave a comment, read comments [2]