Saurik Releases an Update to WinterBoard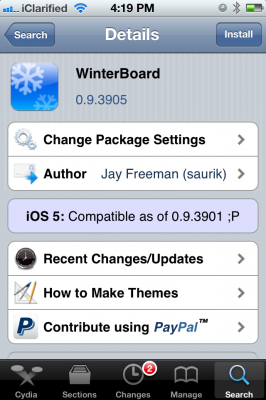 Saurik has released an update to WinterBoard that includes numerous fixes and improvements.
WinterBoard lets you theme your iOS device to the way you want it to. Numerous theme packages can be found on Cydia or you can create your very own.
What's New:
0.9.3905: April 16, 2012
● Fix BadgeStyle Regression in 3904
0.9.3904: April 15, 2012
● 5.x Solve SpringBoard Scroll Lag (only with "SummerBoard Mode" off)
● Default SummerBoard Mode to Off
● 4+5: TimeStyle, PerPage, IconAlpha
● 4+5: WinterBoard.app Respring Fix
● 5.x: Last Ditch kill -KILL Respring
● 4+5: HTML Wallpaper Multi-Touch
● 2+3: Fixed SpringBoard Crashes
● Corrected Order of UISound Stack
● Use Fallback/* to Wildcard Theme
You can download WinterBoard free from Cydia.

Leave a comment, read comments [2]