Saurik Releases Cydia Impactor Tweak Capable of 'Unjailbreaking' Your iOS Device

A well-known hacker saurik has recently released a new tweak called Cydia Impactor. This tweak allows you to 'unjailbreak' your iPhone, iPad or iPod touch without connecting it to computer and performing a full system restore, which deletes user data and erases all the settings. According to the developer of the tweak, the tiny tool gives an opportunity to restore system files and data removed or damaged during the process of jailbreak. Cydia Impactor will be helpful for those people, who don't like syncing their iOS device with computer or those who plan to quickly 'unjailbreak' the smartphone or tablet before selling or giving it away.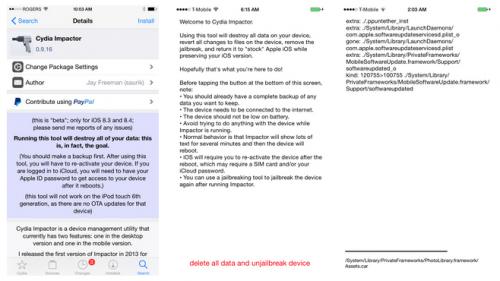 Here's what iClarified reporters write about this tweak:
Saurik has released Cydia Impactor a tweak that lets you 'unjailbreak' your iPhone, iPad, and iPod touch without requiring a restore.

You may want to do this in order to sell your device to someone else and retain its ability to jailbreak or if you are noticing problems with your setup and want to start over with a reasonably fresh install.
If you have a jailbroken iPhone, iPod touch or iPad, you can get the new tweak through Cydia. If you haven't yet hacked your device, you can do this using either Taig or PP jailbreak and the instructions here or here.

Leave a comment