Setting up Sound Blaster Evo Zx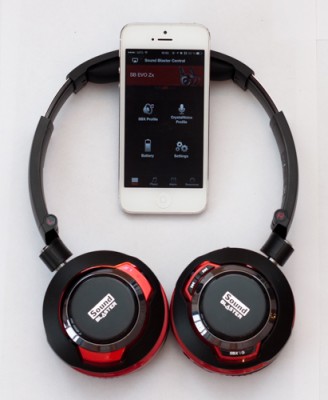 We have already written about supercharged headset Sound Blaster Evo Zx. One of the most visible difference between Evo Zx and other headphones is extraordinary sound quality thanks to many hi-tech technologies. In particular Evo Zx has an internal sound processor SB-Axx1. Today we will take a close look at this processor's power and possible setting.
For iOS operating system Creative made a special app called Sound Blaster Central. When you first connect Evo Zx to an iPhone, iPod Touch or iPad, the intelligent headset analyzes if Sound Blaster application is installed. If no special app is found you'll get a message advising you to install the software from the Apple App Store.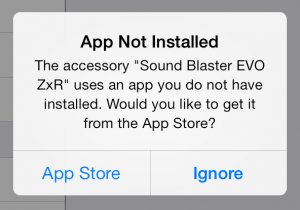 Once you run the app it connects to Evo Zx, syncs all the settings and offers you to select one of several different options.
With SBX Profile you can choose one of pre-installed sound profiles (music, movies and gaming). The sound tuning is taken place here as well, in SBX Pro Studio. By the way you can try to turn on and off SBX to check how the sound changes.
So in SBX Pro Studio you can do just about everything, even more.
SBX Pro Studio Features:
SBX Surround – Creates unprecedented levels of audio realism by producing virtual speakers around, above and below the listener

SBX Crystalizer – Restores the "highs" and "lows" that are compromised during audio compression to create and audio experience as the original artist intended
SBX Smart Volume – Intelligently minimizes abrupt volume changes by automatically adjusting the loudness of audio playback
SBX Dialog Plus – Intelligently enhances voices in music and movies for drastically clearer vocal range
SBX Bass – Dramatically improves the sound experience by expanding the low frequency tones
There is also an equalizer for those who need special tunings based on frequencies.
Crystal Voice Profile allows to adjust sound settings that will activate during talk.
CrystalVoice Features:
CrystalVoice Acoustic Echo Cancellation – Eliminates echoes that interfere with voice communications
CrystalVoice Noise Reduction – Eliminates unwanted background noise from conversations
CrystalVoice inNoiseReduction – Eliminates the other parties' unwanted background noise so that they can be heard clearly
CrystalVoice FX – Morphs voices into different characters and accents
CrystalVoice Focus – Suppresses noise outside a specified acoustic zone to enable voice communications to be heard with amazing clarity
With Sound Blaster Central application one can also check headset's internal battery, access smartphone's music collection and even set up an alarm.
The described detainls show that with Creative Sound Blaster Evo Zx you get not just a headset, but an intelligent hardware and software that makes sure you get the best sound quality possible and even more than that.
iPhoneRoot thanks Creative and Powersales International for providing Creative Sound Blaster Evo Zx review sample.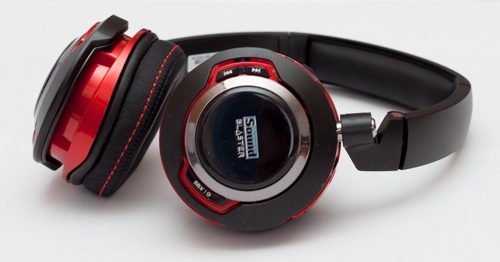 Leave a comment