Singapore carriers working on iPhone 4S mod to remove cameras for servicemen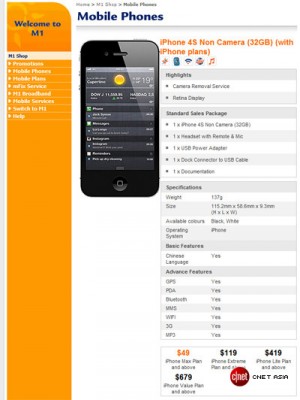 Wireless operators in Singapore are preparing for the launch of an iPhone with removed cameras to market the device to military personnel. Such persons are not allowed to bring camera-equipped smartphones to army camps. And if taking in account that male citizens between the ages of 18 and 21 are obliged to do a 24-month military service, so it is quite large target audience.
One of Singapore's three major wireless operators (M1), confirmed work on a "Non Camera" iPhone 4S last week when it temporarily posted product pages for the modified device, as noted by CNet Asia (via The Verge). The device would sell for S$49 ($38) more than its camera-equipped counterpart. Depending on the monthly plan chosen with a two-year contract, the no-camera iPhone 4S was listed as selling for between S$49 and S$679.
After the listings were pulled, a spokesman for the wireless operator responded to press inquiries by saying that the link had been removed while the company made "some adjustments to this service.'"
Last fall Singapore's Ministry of Defence was talking to one of the country's carriers to "offer a camera removal service for smartphones," though it's not clear whether M1 was the carrier in question. However, negotiations for the service reportedly broke down because the carriers were unwilling to provide a one-year warranty to replace the manufacturer's warranty that would be voided during the camera removal.

Leave a comment