Siri Now Can Make Calls Using Speakerphone

With the release of iOS 8.3 beta, the guys from Cupertino have slightly improved the functionality of the build-in voice assistant. According to what reliable sources write, Siri now can make calls via speakerphone every time user asks for that using the "Hey Siri" command. Strangely enough, such a simple feature was missing in iOS 8 - 8.2. It's good Apple discovered this and found a solution to the problem.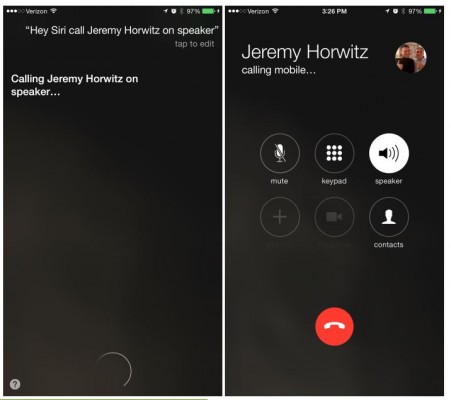 Apple has made a small, but helpful, change in the way that iOS 8.3 can make phone calls via Siri.

[...]

As can be seen in the screenshots above, if a user asks Siri to make a phone call through speakerphone, the call will actually be made on speaker phone.
Apart from the aforementioned improvement, Siri in iOS 8.3 got the support of several new languages, namely, Russian, Danish, Dutch, Portuguese, Swedish, Thai, English for India and Turkish. iOS 8.3 features better integration with CarPlay, the support of Google's two-step verification, new emojis and a bunch of other improvements and bug fixes.
Apart from iOS 8.3, Apple is currently working on iOS 8.4 and iOS 9, which will boast of the support of Apple's new streaming music service and general stability and performance improvements respectively.
[via 9to5Mac]

Leave a comment