Siri Now Jokes About Apple Watch and Its Release

Apple engineers have recently taught Siri how to respond to questions related to the Apple Watch and its release. As usual, they have decided not just to inform the users that the smartwatch will become available on April, 24. No. They've added some jokes in order to make Siri closer to actual human being. Below you may take a look at some of the most frequently asked questions about the Apple Watch and most popular Siri's answers. All these things have been discovered by the French reporters from iGen.fr.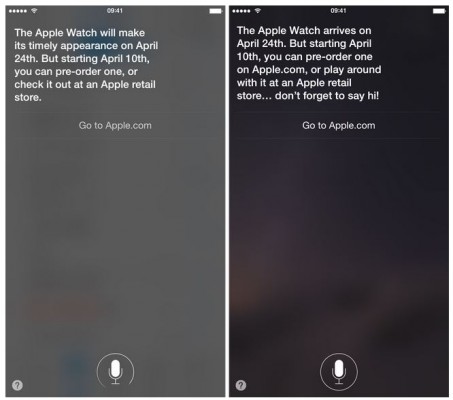 If you ask Siri "When will the Apple Watch be released?", she will tell you "The Apple Watch arrives on April 24th. But starting April 10th, you can pre-order one, or play around with it at an Apple retail store… don't forget to say hi!"
Popular answers to the question "What are you doing now" include "Just counting the minutes until Apple Watch comes out" or "I'm working on my taps and vibrations for the Apple Watch".
We know for sure that Siri can make jokes about the Apple Watch release in French and English, however, there is no confirmation of such feature supported by other languages. If you have time, you may ask Siri on your device something about the Apple Watch and share the results with us.
[via iDownloadBlog]

Leave a comment