Siri Now Recognizes Music Using Shazam

You have probably heard the rumor, according to which Siri was supposed to "learn" to identify music tracks using Shazam functionality. Well, looks like the guys from Cupertino indeed integrated such a useful feature into their virtual assistant and it is now available for all the iOS 8 users.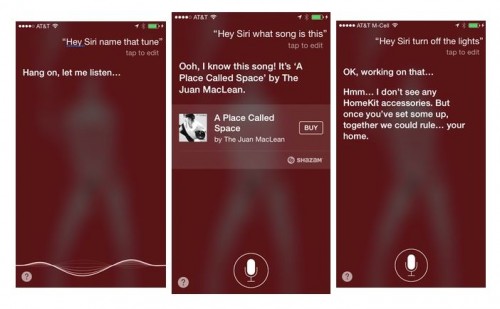 It should be noted, however, that Siri began recognizing music only on Friday, September 19th, though Apple began seeding iOS 8 on Wednesday, September 17th. Anyway, it's better later than never, right?
To ask Apple's virtual assistant to recognise the song you like, you need to use such inquiries as "What song is this?", "What is currently playing?", the command "Name that tune" and probably some other inquiries and commands. The most important thing is to be polite and to show respect. Just joking.
According to a number of reliable sources from different countries, the new feature is currently available on iPhones, iPads and iPods running iOS 8. If you have time, you may test Siri and tell me if everything is working properly right now. I'm waiting for your comments.
[via AppleInsider]

Leave a comment, read comments [4]