Steve Jobs asked Google to stop poaching Apple workers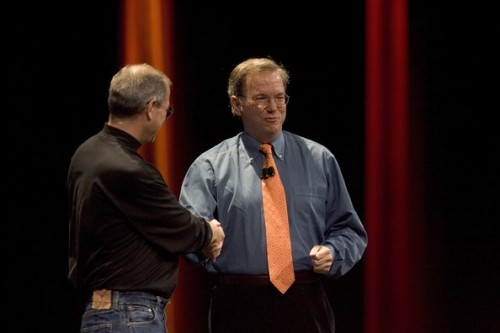 A court filing that is a part of a civil suit involving the employment practices of seven major tech firms was unveiled on last Friday. It includes an email, which late Apple's co-founder Steve Jobs sent to former Google chief Eric Schmidt. Jobs asked Schmidt to end poaching Apple's workers.
The March, 2007 email specifically asked Google to put a stop to its active recruitment of an unnamed Apple engineer, and alluded to halting worker poaching in general, reports Reuters.

"I would be very pleased if your recruiting department would stop doing this," Jobs wrote in his email to Schmidt, who was on Apple's board of directors at the time.
Schmidt immediately reached certain undisclosed members of Google's staff who responded that the employee responsible for the recruitment "will be terminated within the hour."
The suit responsible for bringing the email to light is civil litigation stemming from a Justice Department probe that investigated the anti-poaching practices of Google, Apple, Adobe Systems, Intel, Intuit Inc. and Pixar. In 2009, it was revealed that Apple and Google reportedly created an unofficial agreement to not poach each others workers, resulting in the antitrust investigation.

Leave a comment