Steve Jobs wins posthumous Grammy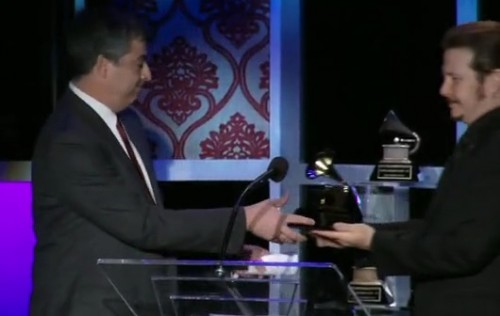 On Saturday, Apple's late co-founder Steve Jobs was awarded a Grammy Trustees Award to his significant contributions to music and music industry, and his part in creating the iPod and iTunes music store, and the effect that both had on a whole music industry. That Jobs was awarded the Grammy was first announced in December, but the statue was not officially handed over until Saturday. A formal acknowledgement was made during the Grammy Awards telecast Sunday evening. The award is the second Grammy given to Jobs. Apple won a technical Grammy award in 2002.
Apple senior vice president of Internet Software and Services, Eddy Cue, accepted the award on his behalf.
Cue, accepting the award for Jobs, said people first questioned why Apple would make a music player when the first iPod was unveiled in 2001. He said that Apple chose to make the iPod because they loved music, and Jobs believed it's always good to do something you love.

"Steve was a visionary, a mentor, and a very close friend," Cue said. "I had the incredible honor of working with him for the last 15 years. Accepting this award means so much to me, because music meant so much to him."

Leave a comment