Strange Apple Vehicle Spotted in California

A strange car with a complicated system of cameras on the roof has been recently spotted in Concord, CA. How is this car connected with Apple? Well, reporters and analysts claim the vehicle is either a mapping car similar to those Google uses to improve its maps and develop the Street View feature, or a self-driving car from the future. Below you may take a look at the image showing a black Dodge Caravan with massive cameras used for unknown purpose.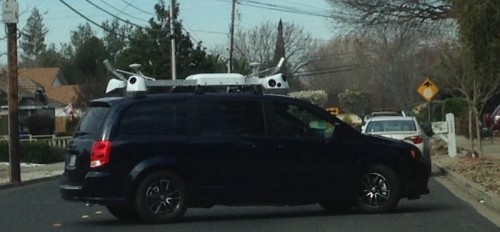 There have been multiple sightings of a mysterious van with a strange apparatus on its roof in Concord, CA and, according to CBS affiliate KPIX 5, the car is leased to Apple. Bay Area blog Claycord posted photos of the Dodge Caravan earlier today.
According to Claycord, the vehicle looks very similar to the self-driving Caravan, which was seen in New York back in September. Other sources, however, believe this is an ordinary mapping car used by the guys from Cupertino to make their maps better.
Over the last few years, Apple has done a lot of work to improve its maps and their functionality. In case you don't remember, the original Maps app debuted alongside iOS 6 release in 2012.
Do you use Apple's maps? Leave your comments below this post.
[via MacRumors]

Leave a comment