iOS 8 Adoption Rate Reaches 72% - Apple

According to the latest figures published on Apple's App Store support page for developers, iOS 8 adoption rate has reached 72% over the last few months. The number of iPhones, iPads and compatible iPods with iOS 8 on board has grown 3% since January, 20th. The reasons for such growth are the public release of iOS 8.1.3 and strong demand for the 4.7-inch iPhone 6 and the 5.5-inch iPhone 6 Plus.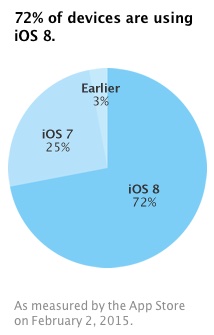 While iOS 8 adoption rate continues to grow, the number of people using iOS 7 gradually falls. Currently, only 25% of active iPhone and iPad users utilize the seventh version of Apple's mobile operating system. 3% of people haven't yet upgraded from iOS 6 or an earlier version of iOS. These are most likely the owners of older handsets and tablets.
Apple's newest operating system, iOS 8, is installed on 72 percent of iOS devices almost five months after it first launched in September of 2014, according to new numbers Apple shared on its App Store support page for developers.
It should be noted that the actual adoption rate numbers may be slightly different. You see, the data about the popularity of the operating system is based on App Store activity and not all the iPhone and iPad users utilize Apple's online application store.
[via MacRumors]

Leave a comment