Tests Revealed Parallels 7 Is The Virtualization Performance Winner On The Mac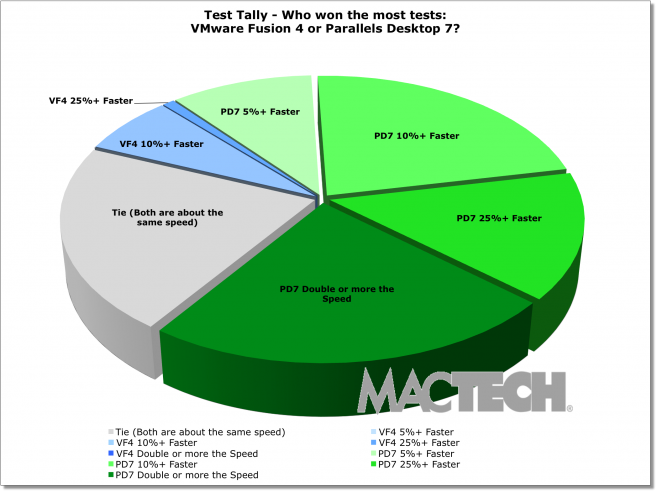 These days there are three main players at Linux/Windows Virtualization on Macs. One of them is a basic emulator VirtualBox that was acquired by Oracle as a part of Sun in 2009. Oracle isn't very interested in development of free Open Source projects so it is unlikely that it will become much better in the near future.
Remaining two players are VMWare Fusion and Parallels. Recently both company pushed updates to their programs and both now enable virtualization of another instance of Mac OS (very useful for developers who test their apps on older versions or users who run applications requiring Rosetta for example).
MacTech conducted a set of tests which revealed a clear speed leader. As you can see from the image above, almost in every test the Parallels 7 performed better than VMWare Fusion in speed. MacTech reports that Parallels 7 beat VMware Fusion in 74.9 percent of the general tests with Parallels was double the speed in quarter of the major tests.
The install base of VMware Fusion is obviously larger in the enterprise segment as the company has longer history of emulation on PC. However with test results showing better performance of Parallels, some businesses may begin to lean toward Parallels.

Leave a comment, read comments [1]