The iPhone 4S Appears to Have 512MB RAM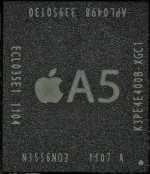 The iPhone 4S is still believed to have 512MB of RAM, just like the iPhone 4. The Infinity Blade developer, who suggested that, found out this fact when he tried to demo his game on the new iPhone 4S during last week's keynote.
"I'm still shocked that, with the iPhone 4S, I'm literally running around with a 1080p video camera in my pocket, with an eight megapixel camera, 64GB of hard drive space and an A5 chip with 512MB of memory. This is a really powerful computer, right?
AppVV also confirms that the iPhone 4S has 512MB of RAM. This fact is repeated on their Weibo page as well in response to a question:
Re @ LogIn_Kim: RAM have said before, is still 512MB.
Though they don't say how they found out that.

Leave a comment