The New iPhone 5s is the Top Selling Device in the U.S. Market

According to the latest Canaccord report, Apple's iPhone 5s is the top smartphone sold at all U.S. carriers. The plastic iPhone 5c comes in the second or third place, depending on a particular carrier.
The iPhone 5s was the top selling device at AT&T, Verizon, Sprint, and T-Mobile in September. The iPhone 5c was the second most popular device at AT&T and Sprint and the third most popular device at Verizon and T-Mobile. It was the Galaxy S4 that outsold the iPhone 5c at Verizon and T-Mobile.
And here's whar analyst T. Michael says:
We believe these price cuts combined with Samsung's aggressive marketing and effective advertising campaign for its existing and new high-tier smartphones, such as the recently-launched Galaxy Note 3, could potentially help Samsung reduce high-tier smartphone share losses to Apple in October despite the strong iPhone 5s and 5c demand.
For more details, look at the chart below the article.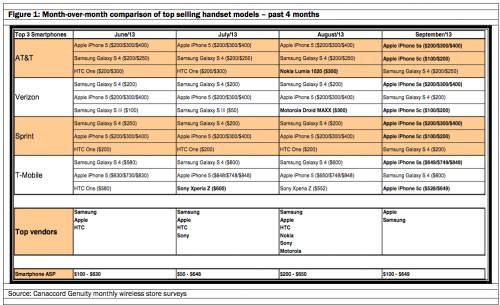 Leave a comment