This Year Apple Again Topped Fortune's 'Most Admired Companies' Ranking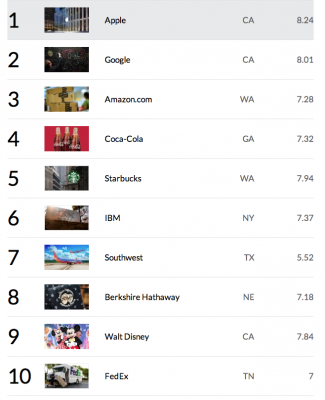 Apple has taken the number one position in Fortune's annual list of World's Most Admired Companies for sixth year running.
The Fortune's ranking is based on a extensive poll of industry analysts, corporate executives and directors who ranked companies by nine key attributes: Use of corporate assets, People management, Financial soundness, Innovation, Social responsibility, Quality of management, Financial soundness, Quality of management, Long-term investment, Global competitiveness and Quality of products/services. Apple scored the number one spot in all nine categories.
"Apple has had a rough time lately with its stock price in a free fall and the widely publicized failure of its Maps feature. However, it remains a financial juggernaut, posting $13 billion in net income last quarter, making it the most profitable company in the world during that period. The company has its fanatical customer base, and it still refuses to compete on price, making the iconic iPhone and iPad products that are still widely seen as prestige devices".

Leave a comment