Thunderbolt Cable Teardown Reveals Electronics and Firmware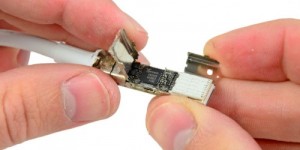 Arstechnica and iFixIt claim that Apple's new Tunderbolt cable is actually a "smart" cable that contains circuitry and firmware. iFixIt have already torn down the cable, having found inside two Gennum GN2033 chips in the connector that works as a transceiver to enable "reliable data transfer at cutting-edge speeds over low cost, thin-gauge copper cables." There were also found additional support chips and resistors, so the total number of chips inside the Thunderbolt connector is 12, of course not including multiply smaller electronic components.
Quite interesting that the current Thunderbolt ports found in iMac and MacBook Pro are planned to be compatible with future Thunderbolt cables, bringing a significant speed improvement. But the current generation of such ports works on the traditional wiring.
...the port you'll find in new MacBook Pros and storage devices can actually take an optical cable when those are cost-effective enough to roll out, because Intel will eventually bake the optical transceivers into the cables themselves.
Arstechnica believes that such optical Thunderbolt cables will be expensive and cabling could be quite complex due to that factors they won't get widespread adoption in the nearest future.

Leave a comment