Verizon will sell 9 million iPhones in 2011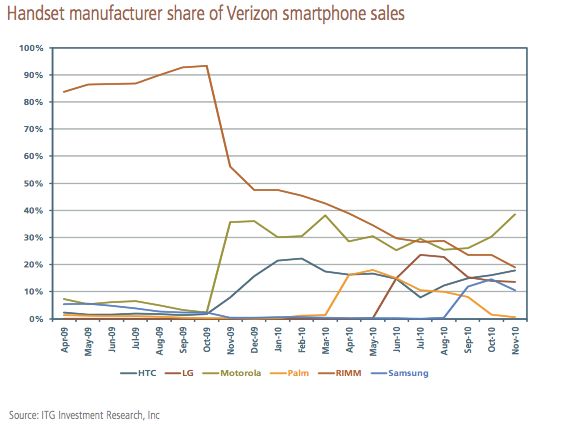 Another Gene Munster's research note reveals that Apple will release the CDMA-enabled iPhone in early to mid 2011, ad 2,5 million of these devices will be sold by Verizon in 2011.
Piper Jaffray, where Munster works at, assumed that Verizon will sell approximately 25 million smartphones in the next year, and 36% of it (or 9 million) will be Apple's iPhones. But the majority of those who will buy CDMA-enabled iPhone occurs to be the switchers from AT&T, and that's why only 2.5 million Apple's phones will be sold by Verizon.

Thereby, Munster "conservatively" predicts that in 2011 AT&T will sell 11 million iPhones, and Verizon will sell 9 million Apple's handsets. If AT&T would have no competition with Verizon, it would sell 17.5 million devices.
Other interesting facts from Gene Munster's research note:
This year AT&T will presumably sell 15.6 million iPhones, which is 34% of all the iPhones sold worldwide.
When Verizon will start selling iPhones, AT&T share in worldwide sales of iphone will reduceto 17%.
Global iPhone sales will be equal 46.3 million in this year and 63 million in the next year.
In 2012 Apple will sell 78.3 million iPhones worldwide. Verizon and AT&T will sell approximately 14 million each.
It is noticeable that the recent report of Fortune's journalist Philip Elmer-DeWitt reveals an ever weaker outlook at the Verizon iPhone sales. BMO Capital Markets predicted that 8 million iPhones will be sold by Verizon in 2011, Barclays Capital's James Ratcliff estimated 9 million.
Merrill Lynch's Scott Craig decided that Verizon will sell 'at least ten million' iPhones. Here is how he explained that:
"Historically, when the iPhone has been added to a second carrier in a country (France, Norway, Canada, UK, etc), iPhone shipments increased nearly 1:1 with subscriber base, indicating minimal/no share loss at the incumbent carrier. We are more conservative in our estimates, given the more recent increased competition from Android devices and some likely cannibalization at AT&T."
Last few month showed that AT&T sells 2.5 times more iPhones than Verizon sells Android-based smartphones. Earlier Verizon had staked on RIM's BlackBerry, but when Android appeared, sales share of BlackBerry smartphones falled from 90% to 20%. If iPhone will significantly increase Verizon's sales, that can be as disastrous for Android as it was for BlackBerry.

Leave a comment