White iPhone 4 Sales Officially Begin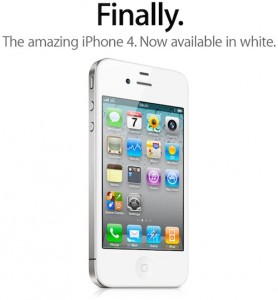 Apple has finally begun selling the rumored white iPhone 4 after a 10-month delay since the original unveiling at the WWDC 2010. Steve Jobs and Phil Schiller told in an interview to Mobilized's Ina Fried that the white iPhone was really "challenging" to make because of "unexpected interactions" of the white color with several internal components. Moreover, the white model of iPhone 4 indeed has a different proximity sensor than the black one.
"It was challenging," Apple senior vice president Phil Schiller said during a joint interview with CEO Steve Jobs on Wednesday. "It's not as simple as making something white. There's a lot more that goes into both the material science of it–how it holds up over time… but also in how it all works with the sensors.
One more reason for delay was that the white iPhone 4 needed stronger UV protection that the black model. So maybe that was the reason Apple started using Japanese paint that manage to fix the production issues of the white iPhone. Jobs noted that the work that Apple had to do to get the white iPhone ready has benefited the company more broadly. Nevertheless, today the white iPhone 4 is finally available!

Leave a comment