Widely Rumored Apple A7 Processor is 'very fast'

Apple's widely rumored A7 processor, which is presumably used to power iPhone 5S, is "very fast". This is what Clayton Morris - Fox News reporter - has recently tweeted. He said that the new A7 "is running at about 31% faster than A6. I'm hearing it's very fast." Moreover, the sources claim that the new CPU will be 64-bit, which proves the reporter's words.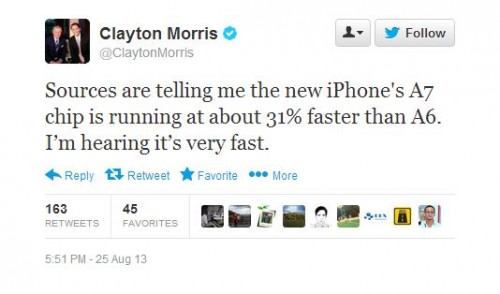 KGI Securities analyst Ming-Chi Kuo was the first to suggest that the next generation Apple's system-on-a-chip will be 64-bit. He noted this fact in his latest report about ten days ago.
Generally, 64-bit chips can address more memory and, thus, can be better at running more demanding software. 9to5Mac speculates that a 64-bit Apple chip will be more adept at handling "animations, transparencies, and other iOS 7 graphical effects."
The new Apple A7 64-bit processor can possibly be used not only in the iPhone 5S, but in the upcoming iPad 5 as well, since the iPad 4 uses not the usual A6 CPU, but its enhanced and improved version called A6X. Obviously, the new generation of Apple's tablets can be equipped with a new generation processor to cope with modern software and games.

Leave a comment