WinZip App Released for iPhone and iPad (Free)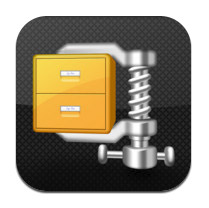 WinZip, the popular Windows utility for zip file management, has been released for iPhone, iPad and iPod Touch.
WinZip, the leader of file compression for over 20 years and the creators of WinZip the world's # 1 zip utility for file compression, file sharing, file encryption and data backup.

Features:

Open Zip files and Zip attachments from email
Browse and view Zip files, including multi-file attachments
Open encrypted Zip files
Copy the contents of Zip files to the clipboard
View Zip file attachments from webmail (Yahoo, Gmail, Hotmail, etc)
Zipped file types that can be previewed:
.txt, .doc, .docx, .xls, .xlsx, .ppt, .pptx, .rtf, .pdf, .key, .numbers, .pages, .htm, .htm, .jsp, .bmp, .jpg, .jpeg, .tif, .tiff, .png, .gif

An easy-to-use interface for quickly opening and manage compressed Zip files on your iPhone and iPad.
You can download WinZip from the AppStore for free (link).
More photos:

Leave a comment