4.94-inch iPhone layout Plus show why an enhanced version may make sense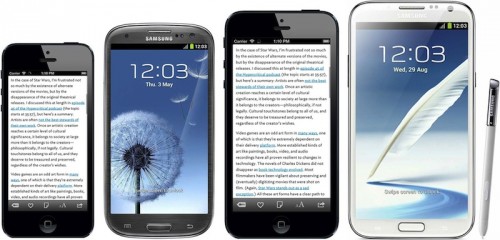 Due to rumors of a much larger "iPhone Math", developer of the Instapaper, Marco Arment conducted research and provided several layouts that show how Apple may reach 5-inch iPhone without breaking existing applications ecosystem.
"The recently rumored, larger-screened "iPhone Math", or more likely "iPhone Plus", is plausible as an additional model (not a replacement) alongside the 4" iPhone. And there's a good chance that it would have a 4.94", 16:9 screen.
The theory is easy to understand: perform John Gruber's Mini-predicting math backwards. The iPad Mini uses iPhone 3GS-density screens at iPad resolution. What if an iPhone Plus used Retina iPad screens with iPhone 5 resolution, keeping the rest of the design sized like an iPhone 5?"
Arment notes that maintaining the same proportions as in the iPhone 5, but with a larger screen places the iPhone Plus between the Galaxy S III and Galaxy Note II. It is also likely that Apple would cut the chin and forehead of the device somewhat to bring it closer to the Galaxy S III total size.

Leave a comment