5.5 million iPhones were sold in the third quarter of 2010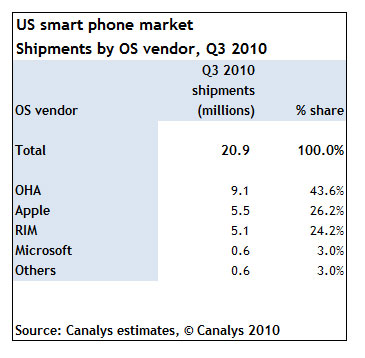 Today Canalys released new data on US smartphones shipments which shows that Apple became the №1 smartphone vendor in the USA with its 26.2% share. Its main competitor is now Research In Motion with its 24.2% share.
But besides that Canalys also found that Google's Android mobile OS represented 43.6% of the market in the last quarter, which means it's the best-selling operating system.

Only a year ago there were 1.4 million Android-based devices shipped in the third quarter of 2009 worldwide and now the number of phones sold has increased to more than 20 million - this is a 1,309 percent growth! The same trend will be in the next quarters, thinks Senior Analyst at Canalys Pete Cunningham:
"With Samsung, HTC, Motorola and Sony Ericsson all delivering large numbers of Android devices, and with focused efforts from many other vendors, such as LG, Huawei and Acer, yielding promising volumes, the platform continues to gather momentum in markets around the world".
The numbers show that in the USA in the third quarter there were shipped 9.1 million of Android smartphones, 5,5 million iPhones, 5.1 million of RIM's Blackberries and 600,000 handsets made by Microsoft.
"Android has been well received by the market and in some geographies it is becoming a sought-after consumer brand. It has rapidly become the platform to watch, and its growing volumes will help to entice developers, ensuring consumers have access to an increasingly rich and vibrant mobile content and application ecosystem."

Leave a comment