Apple Became The US Fastest-Growing Retailer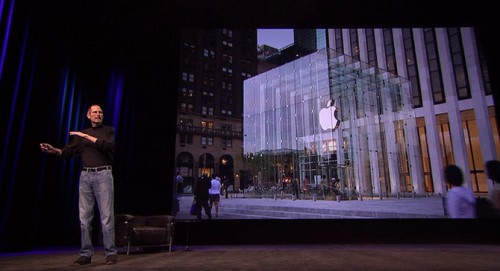 Basing on estimations from retail sales expert David Berman, USA Today reports that Apple is taking "a massive bite" of retail sales in the USA. Ever-growing sales of iOS devices and Mac computers that continue to outrun sales of other computer makers along with company's margins cannot pass unnoticed. The publication reads:
In the first three months of 2011, Apple's U.S. sales rose by $4.6 billion, an 80% increase from a year ago. That increase accounted for one-fifth of all sales growth by publicly traded retailers in the U.S., according to a recent analysis of sales trends by retail sales expert David Berman. In part, that's a reflection of poor sales among most retailers. But it also highlights how Steve Jobs' technology giant is grabbing a big slice of market share in everything from smartphones to PCs.
This year the first quarter's iPhone sales generated over nine billion dollars for Apple, or around 40 percent of its quarterly revenue. Another noteworthy fact: total sales in the USA covering web companies, electronics retailers and automotive parts dealers increased by $23.2 billion in the first quarter in comparison with Apple's revenue in the same quarter of $24.67 billion. It should be noted that Apple managed to outstrip the likes of Wal-Mart Stores and Amazon.com in the US sales growth.
One of the contributing factors to this growth is that Apple's physical stores are attracting ever-increasing number of clients, who make purchases directly from the company, directing money into the Apple's funds because the company doesn't share its mark-up with third-parties. Main stores like Fifth Avenue store (which is currently undergoing modification) bring in the biggest part of Apple's retail sales, especially the glass cylinder location in Shanghai's Pudong district that has grown into the company's most profitable store.
After ten years of work Apple Stores recently welcomed their one billionth visitor. Apart from US, Apple Stores are currently placed in Canada, China, France, Italy, Germany, Switzerland, Australia, Japan and UK. As of March the company runs 323 stores. Also, there are stores of another sort, the iTunes Stores, which offer low-margin, high-revenue movies and music along with more profit-making mobile applications. Apple Stores are forecasted to bring in $7.7 billion of revenue this year, amounting to profits of cool $2.31 billion, after 30 percent reduction to compensate its expenses.

Leave a comment