Apple Files Lawsuit Against Kid Who Sold White iPhone 4 Parts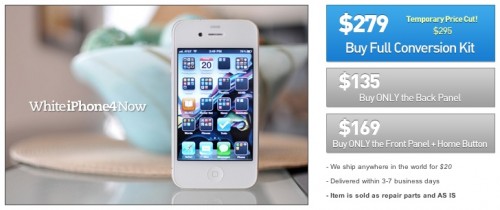 A few months ago we told you about the teenager, Fei Lam, whose site, WhiteiPhone4Now.com had been forced to shut down. He managed to sell $130,000 worth of the white iPhone 4 parts. And only yesterday Apple decided to file a lawsuit against Lam and his parents. The suit claims that the site led to the infringement and dilution of Apple's trademarks and that it was involved in deceptive practices through selling the iPhone conversion kits. Curiously, Apple has also filed a voluntary dismissal of the lawsuit, which may mean that a settlement has been reached, although the request for dismissal without prejudice may mean that Apple could come after Lim again at a later date.
Defendant Lam willfully and without authorization has used Apple's trademarks in connection with the sale of his "White iPhone 4 Conversion Kits," which among other things included white front and back panels with Apple's logo and "iPhone" trademarks that are used in connection with the promotion and sale of Apple's well known iPhone 4 handheld mobile digital electronic devices.
Apple has requested a permanent injunction barring the Lam, and his parents who are also included in the suit because he is a minor, from any further sales and forfeiture of all profits from the sale of white iPhone 4 parts.

Leave a comment