Apple granted original list-editing iPhone patent, 13 others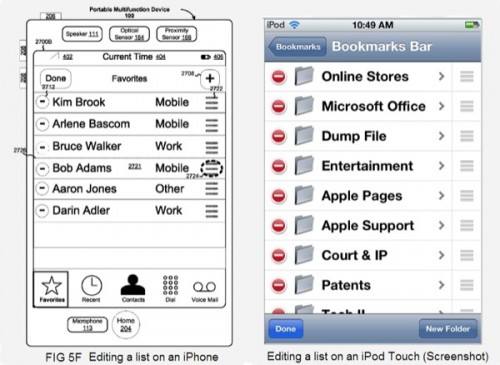 The U.S. Patent and Trademark Office has granted Apple an original iPhone patent for editing lists by using touch gestures. Such technology gives an opportunity for inventions regarding use of the handset as a portable hard drive and a filing for the company's now defunct Bluetooth headset.
The original touchscreen patent, first filed for in June 2007, covers a method for displaying and managing lists on a portable multifunction device, and details a simple computer user interface controlled by finger gestures rather than a sequence of button presses and stylus touches. What the abstract describes is the basic list management system found on current iOS devices.
Included in the patent background is a look at the state of portable devices at the time, which Apple claimed "resorted to adding more pushbuttons, increasing the density of push buttons, overloading the functions of pushbuttons, or using complex menu systems to allow a user to access, store and manipulate data." A far cry from what the company eventually released in the original one-button iPhone.
The company explains that devices which rely on physical pushbuttons are inherently limited in their configurability, and that a conventional user may find it frustrating to operate such an inflexible interface.
Because such devices are designed to read the precise pinpoint contact of the stylus (when a user makes a selection on the touch screen with the stylus), making selections on the touch screen of the device without a stylus, for example, with a user's finger, can prove to be somewhat difficult.

Leave a comment