Apple Releases Safari 7.0.3 and Safari 6.1.3 to Developers for Testing

Looks like the guys from Cupertino work hard to release new versions of their software as soon as possible. Following the yesterday's release of OS X Mavericks 10.9.3 and iTunes 11.1.6, Apple today seeded Safari 7.0.3 for OS X Mavericks and Safari 6.1.3 for OS X Mountain Lion and OS X Lion to developers for testing purposes.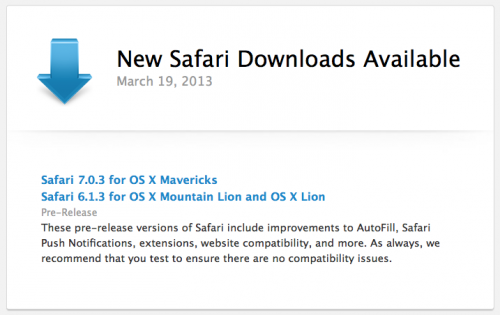 These pre-release versions of Safari include improvements to AutoFill, Safari Push Notifications, extensions, website compatibility, and more. As always, we recommend that you test to ensure there are no compatibility issues.
Apple has asked developers to focus on Safari Push Notifications, Login AutoFill, Credit Card AutoFill (only in OS X Mavericks), Extension Compatibility and General website compatibility.
If you have a developer account, you can download the latest Safari betas from Apple's developer portal.

Leave a comment