Apple Watch Users Can Manually Adjust Time Displayed on Watch

We all know that the Apple Watch is a device, which can boast of some truly unique features, for example, Force Touch, Digital Crown and a bunch of health-tracking sensors. However, there's one important feature added to the smartwatch specifically for those people, who always turn up late for various meetings. It is possible to adjust the time displayed on the watch face manually. This means you can use the old, but effective trick and move the displayed time ahead in order not to be late.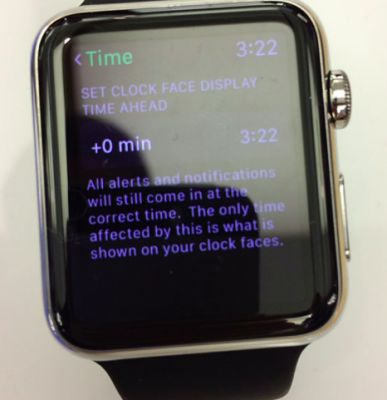 When unveiling the Apple Watch, Apple heavily touted the fact that the device is an incredibly precise timekeeper. As the Watch has rolled out to retail stores we've slowly been finding a few features buried within Settings, including one that relates to the accuracy of the time. In Watch OS, Apple has included the ability to manually adjust the time displayed on the watch face of your device.
It should be noted, however, that the aforementioned adjustment won't affect the alarms and notifications. They will pop up at the correct time. As we see, the main aim of the new feature is to fool a user, who is always arriving late.
[via 9to5Mac]

Leave a comment