DevTeam Successfully Untethers iPhone iOS 4.2.1 Jailbreak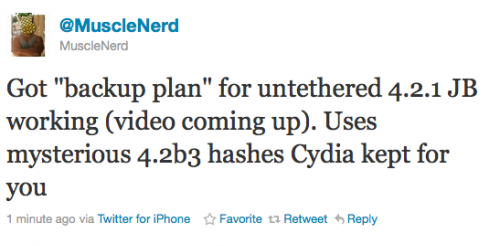 Currently iOS 4.2.1 jailbreak for iPhone 4, iPhone 3GS new bootrom, iPad, iPod 3G/4G is a tethered jailbreak. That means if you have to reboot your device, it will show a "connect to itunes" logo until you run the jailbreak software again. Musclenerd from iPhone DevTeam has announced that untethered jailbreak for iPhone iOS 4.2.1 is ready. Unfortunately this will be only for those who saved 4.2b3 SHSH keys via Cydia or tinyumbrella.
Got "backup plan" for untethered 4.2.1 JB working (video coming up). Uses mysterious 4.2b3 hashes Cydia kept for you.
"Backup plan" because hacker comex is working on a more extensible jailbreak. We'll keep you up to date with more information as it develops. For now you can watch the proof video:

Leave a comment, read comments [4]