H-W Technology Accuses Apple Of Infringing Its Ad-Related Patent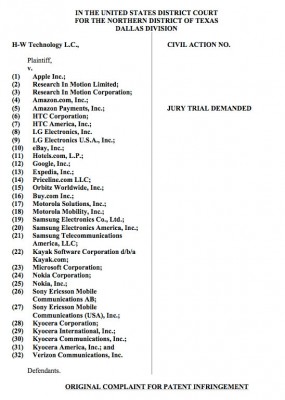 This week another lawsuit had been filed against Apple. This time H-W Technology LC accused the company of violating its patent No. 7,525,955, entitled "Internet Protocol (IP) Phone with Search and Advertising Capability".
The latter was filed in 2004, and granted in April of 2009 by U.S. Patent and Trademark Office. The invention describes a handset with the unique ability to "converge voice and data within a single terminal", which would allow users to "receive information and offers from merchants and to complete a transaction with one of said merchants without having to generate a voice call".

Apple is listed as a defendant along with other 31 companies, which include Microsoft, Nokia, Google, Research In Motion, Motorola, HTC, Samsung, Sony, Amazon, Verizon and others.
The lawsuit accuses the Cupertino's company of infringing the above-mentioned patent by creating "a multi-convergence device having a domain specific application" that allows users to make transactions through a data connection only. The document reveals this device is an iPhone.
H-W Technology wants the court to prevent Apple and other 31 defendants from selling products which are believed to infringe the U.S. Patent No. 7,525,955. The complaint was filed on March, 30 in a U.S. District Court in the Northern District of Texas, Dallas Division.

Leave a comment, read comments [1]