iPad's Camera Kit Is Compatible With USB Audio And Keyboards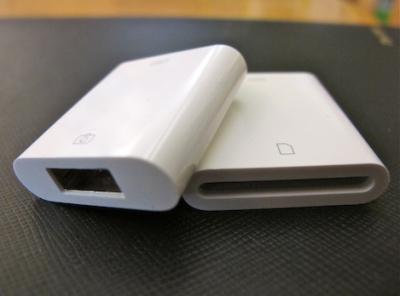 Few days ago Tidbits made a test of Apple's iPad's Camera Connection Kit. It was  found that the kit works fine with almost any USB microphone, headset or headphone. That means you can listen to music or even make VoIP-calls. It is reported that the quality of such calls is "terrific".
The Unofficial Apple Weblog also tested the kit and found USB keyboards to work pretty good. Well, this was expected because of official iPad Keyboard Dock support. The only problem is that USB keyboards don't have a dock so it is inconvenient to use with iPad.
As you see from the video below the kit allows you to import photos from the memory card and delete it. iPad can import not only usual images, but also RAW files from high-end cameras. Moreover, photos will be copied at full resolution and with EXIF metadata. Video may be also imported and processed with a simple editor. But note that any video clip that is larger than 640x480 and 5 megabytes will be shrunk.

Leave a comment