iPhone 5S rumored fingerprint sensor

Apple has recently published a patent which describes that the rumored fingerprint sensor for the iPhone 5S will be built into the  screen. It was suggested before that the sensor would be inserted in the Home button.
iPhone 5S has been long rumored to have a fingerprint sensor, the latter being a distinguishing feature from the previous models. In the new model the fingerprint sensor will be used to  verify purchases and to unlock the device. It will certainly be a breakthrough technology. However, it essential to say that Apple is not the first company using  new technologies such as  cardless payments. Fingerprint sensors have been rumored to be used in iPhones since Apple acquired the  mobile security company AuthenTec last year.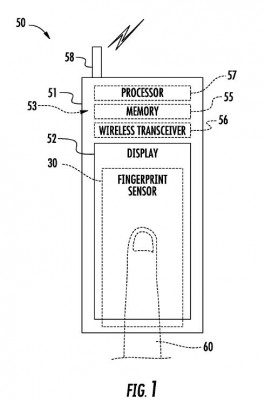 Conventional fingerprint readers look like a small hardware device, similar to the one added to a Samsung S3 by Validity:
Validity is one of the leading producers of fingerprint sensors for consumer electronics. Its representatives said that this year is going to be when the technology graduates from laptops to mobile devices.
It was believed before that the best place for sensor on an iPhone would be the home button, but the patent suggests a much more Apple-like approach: something that means implying the technology without changing the design of the front facia even slightly.
Apple's technology is slightly different than those embodiments. Rather than use an attached hardware sensor, like most PCs do, Apple's patent application allows users to place their fingers on a touch display. The company's technology then analyzes the finger on a pixel-by-pixel basis to determine if it's a match with the owner's.
We will find out soon which technology Apple will use, despite iPhone 5S production is delayed or not.

Leave a comment