Kayak: One of the Best Travel Apps for iPhone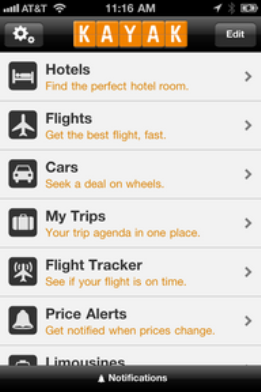 There exists a vast diversity of different pro travel online resources where a traveler can search for hotel listings and reviews in a certain area, flights in different airports and car rentals info along with other useful tips. However if you intend to get such data in the quickest way via your iPhone you are advised to appeal to Kayak for iPhone application. Its latest version features totally new and redesigned interface (the previous tile-like design was not very appreciated by users) with the innovative quick search system making it easier to build your travel plans.
Via Kayak app you will be able to get an access to listings in order to browse flights, hotels and the nearest car rentals in your presupposed travel destination. You simply need to type the search request and enter your travel dates and Kayak will find the best possible results according to the pointed out data. Besides you will get a progress bar and updates of flights info thanks to Kayak straight to your iPhone.
Besides habitual travel search service you can expect to get an access to the special sections. The first one is My Trips where you will be able to store all your personal travel info get via Kayak for every particular trip you planned. The second special service is called a Flight Tracker to check instead of you if your flight is on time. There is also the Price Alert service by means of which you can hunt the best week's deals via push notifications.
And at last you can use such trifle but handy features as checking the baggage fees at different airlines, general airports' info, and will be able to create a list what stuff you need to pack and get along with you while travelling.
Visit the official page of free Kayak for iPhone app.

Leave a comment, read comments [1]