Mountain Lion OS X 10.8.1 Increases Battery Life In Some Degree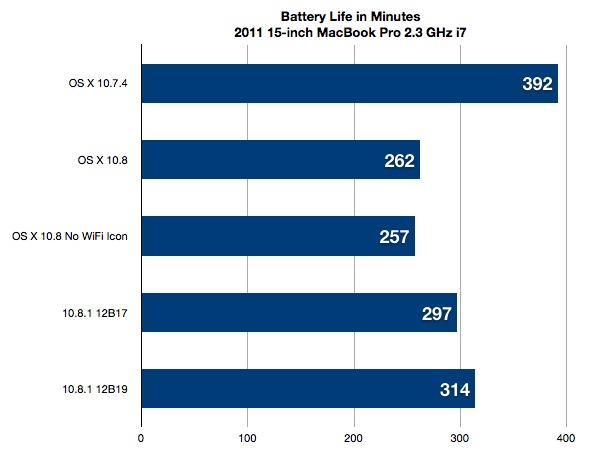 This month Arstechnica reported that many users had faced a considerable drop in battery life after installing OS X 10.8 version.
"Ars writer Chris Foresman, after extended testing, discovered that the battery life of his Retina MacBook Pro review unit dropped 38% from its previous 8-hours".
The same issue were reported by many Mac users in Apple's support forums, and some rumors suggested that Apple would address the issue with the OS X 10.8.1 release.
MacObserver performed battery life tests on the OS X 10.8.1 build to find if the build brings any improvement. The tests were conducted on a 2011 Macbook Pro. The results are shown on the picture above.
They confirmed the decrease in battery life when using OS X 10.8 in comparison with OS X 10.7.4. The decrease they found was 33 percent (2 hours and 10 minutes). They also found that OS X 10.8.1 builds indeed increase the battery life, adding 52 minutes in the testing. However, the overall numbers are still well under the measurements of battery life in OS X 10.7.4.
The OS X 10.8.2 build is currently under developer testing, but it is unknown if the build helps further increase battery life towards levels seen when using OS X Lion.

Leave a comment