News tagged 'mail'

Contact details
- Advertising
- Banners and links
- Commercial offers
- Quizzes and competitions
- Internet advertising
adv@iphoneroot.com
- Request for product testing and review
- Request App review
- Cooperation and partnership
- Using materials from iPhoneRoot.com
- Business proposal
admin@iphoneroot.com
- Invitations to conferences, exhibitions and other events
events@iphoneroot.com
- Press releases
- Your news
- Product announcements
- Contact our editors with tips
news@iphoneroot.com
- Typos and errors
- Site tips and suggestions
webmaster@iphoneroot.com
iPhoneRoot team
Victor (admin)
Editor-in-chief | Writer
victor@iphoneroot.com
Maxim (SimplyMax)
Writer
max@iphoneroot.com
Svetlana (SvetlanaUI)
Writer
svetlana@iphoneroot.com
Irina (Bbagira)
Writer
bagira@iphoneroot.com
Evgeny
Editor
evgeny@iphoneroot.com
Alexander
Associate Editor
alex@iphoneroot.com
Simon
Contributing Writer
simon@iphoneroot.com
Nick
Site developer
webmaster@iphoneroot.com

Leave a comment

During Mobile World Congress 2009 Google demoed a version of GMail that will still work even when Airplane mode is on. Airplane mode effectively takes the iPhone offline, but by using local storage capabilities found in HTML5, users would still be able to browse and manipulate their mail. A video shows it in action:
via macrumors

Leave a comment

One more interesting, fantastic device. Indeed it is the first phone in the world to record video in HD 720p (1280 × 720). Here are the photos (click to get high resolution images):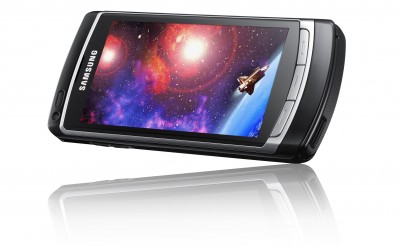 Samsung OMNIA HD (I8910) Product Specification:
Network

HSUPA 5.76Mbps / HSDPA 7.2 Mbps
EDGE/GPRS Class 12 Quad Band (850/900/1800/1900)
UMTS Tri Band (900/1900/2100MHz)

OS

Symbian S60 5.0 (Full touch UI)

Display

3.7" 16M Full Touch QHD AMOLED (360x640)

Camera

8 Megapixel CMOS + CIF

Auto-Focus / Power LED Flash / Face Detection/Smile Shot / Blink Shot / Panorama Shot

Video

DivX / XviD / H.263 / H.264 / WMV / MPEG4, RV

24fps@HD(1280 x 720p) Video recording

DLNA & HD TV out (DLNA dongle needed)

Video Editing: Trim video, Audio dubbing, Live dubbing, Add subtitle, Image capture

Audio

FM Radio with RDS

MP3/ AAC / AAC+ / eAAC+ / WMA / RA

Dual Stereo Speaker & DNSe 2.0: )

Value-added Features

GPS / S-GPS / Xtragps with Navigation, Proximacy, Light Sensor, Compass, Accelerometer

Advanced TouchWiz UI with Widget

Mobile Widget, Share Pix, Document Viewer, E-Dictionary, Biz Card Recognition, Podcasting, 3D Games, Application Download, Push Email (MS Exchange),Real-time video uploading, Smart Search

Connectivity

Bluetooth v2.0 / USB 2.0 / Wi-Fi

Memory

8GB / 16GB Flash + External Memory slot : microSDHC™ (up to 32GB)

Size

123 x 58 x 12.9

Battery

1500 mAh

Leave a comment

Since the iPhone's launch, the lack of video capabilities on the handset has been a major complaint among customers.The patent, that Apple was given several days ago, shows company's plans to introduce video conferencing to future generations of the popular handset. Apple devotes a paragraph to explaining how video conferencing would work. Lens that can be rotated backward or forward, coupled with the touchscreen as a viewfinder.

Leave a comment

Google has just announced a new way to manage your Gmail Tasks from your mobile device or your iGoogle homepage.

Leave a comment

TUAW reader Paul tells a nice story, how his iPhone helped him to avoid getting the ticket. He was driving on a Midwestern road covered with blowing snow. He slowed down for a car stopped on the side of the road, but the car behind him hit his rear bumper, doing damage to both cars.
The officer who arrived to investigate asked Paul for his insurance card. Of course, that was when Paul realized it had expired the month before, and he didn't have the latest card in his wallet. The officer said it would be $200 for not being able to prove insurance coverage, and since Paul didn't have the cash it meant putting his license up for bond.
While the officer was doing the paperwork, Paul used his iPhone to log into his Geico Insurance account via the web. He was able to request a PDF copy of his card, which was emailed to his iPhone; then he displayed it to the officer. Happily, the deputy accepted the card as proof of insurance and did not issue the citation.
Most police agencies wouldn't be so open to the idea of looking at a downloaded document, but in this case, at least, it is yet another reason to love the iPhone.
via tuaw

Leave a comment

According to the report of Devicescape, Wi-Fi applications developer, smartphone users prefer to use Wi-Fi rather than 3G.
During the servey 81% users would like to connect to Wi-Fi for internet browsing and email sending. About 86% said that Wi-Fi modules in phones are necessary. 82% would like to have special tariffs for 3G/Wi-Fi.
About 84% of people would like to see Wi-Fi spots everywhere. 56% of them are ready to pay for Wi-Fi service.
via 3dnews

Leave a comment

Apple has just pushed out Firmware 2.2.1 for iPhone and iPhone 3G, iPod touch, iPod touch 2G. You can download them here. Firmware 2.2.1 cannot be jailbroken at this time, so unofficial application users should wait for new version of QuickPwn from DevTeam. Unlock (yellowsn0w) also doesn't work for 2.2.1.
This update contains bug fixes and improvements:
Version 2.2.1 (Build 5H11)
Modem Firmware 02.30.03
Improved general stability of Safari
Fixed issue where some images saved from Mail do not display correctly in the Camera Roll
Fixed issue that caused some Apple Lossless (ALAC) to skip during playback
Unofficially Apple fixed SMS bug: users suddenly experience inability to send SMS text messages on the iPhone 3G, receiving the message "error sending" upon attempting to send.

Leave a comment

First of all these icons can be viewed on any iPhone with 2.2 firmware. But to be able to send these icons users need to perform additional actions. There are 4 ways to turn them on and 2 of them are free:
Solution N1 for $5.99:
In AppStore buy and install Touch Dial Emoji. Goto Settings -> Touch Dial -> Enable Smiley icon ON. Launch Touch Dial. Go to Settings -> General -> Keyboard -> International Keyboards -> Japanese and enable "Emoji."
Solution N2 for $0.99:
In AppStore buy and install FrostyPlace. Play with the app for a minute to activate, click on a story, etc. Go to Settings -> General -> Keyboard -> International Keyboards -> Japanese and enable "Emoji."
Solution N3 for Free:
Jailbreak your iPhone. Run Cydia and install Emoji application (iSpazio repository). Go to Settings -> General -> Keyboard -> International Keyboards -> Japanese and enable "Emoji."
This application adds boolean 'true' key KeyboardEmojiEverywhere edits in /User/Library/Preferences/com.apple.Preferences.plist. You can do it manually if you want.
Solution N3 for Free:
Step 1. Download the vcard.vcf here.
Step 2. Import it to your address book program. If you are using Windows, you may want to do it on iPhone directly. Send the vcard.vcf file to yourself. Open in on iPhone's Email.app, click the vcf file and import all the contacts.
Step 3. Go into "Settings" > "General" > "Keyboard" > "Japanese Keyboard". Enable the QWERTY keyboard.
Step 4. In notes or any other program you want. Type "emojia", "emojii" or "emojiu" to select those
icons.
I like Solution N3. It is free and simple. You do not need to play with contacts and etc. But you need to jailbreak an iPhone.

Leave a comment

Apple released new firmware version 2.2. Here are the direct links to all firmwares, including 2.2.
What's new in 2.2:
Enhancements to Maps

Google Street View - takes you on a virtual walking tour: Navigate street-level photographs of places you've located in Maps.
Public transit and walking directions - Get walking directions, find public transit schedules, check fares, and estimate your travel time.
Display address of dropped pins
Share location via email - Tap the Share Location button to send an email that includes a Google Maps URL.

Leave a comment

Google Mobile App (AppStore link) is updated with voice control support.
Features include:
Voice search - Speak your queries instead of typing them.
Search with My Location - Search for nearby businesses and more without specifying where you are.
Saving suggestions for web site shortcuts, like Wikipedia articles, search history, word completions.
Fast access to Google services like Mail, Earth, Photos, Talk, Reader and more.
Voice Search is supported only on iPhone, and works best for North American English accents. Other languages coming soon.

Leave a comment, read comments [1]

Cooliris, the popular browser extension that revolutionizes the way you view media. Now it is available as an application for iPhone and iPod Touch. Cooliris makes finding news and search results a breeze by displaying them as an endlessly streaming 3D Wall, complementing the touch screen perfectly.
This application is free, avaliable via AppStore (link).
Features
3D Wall makes finding and viewing content easy, and fun
Discover provides you with news on-the-go: stay on top of the latest current events
Get the full story: Read more inline without having to jump to the web browser
How to use:
1-Finger Swipe - Scroll the wall a screen length
Pinch / Expand Wall - Zoom in/out
Single Tap - Select Media or go full screen
Tilt Wall - Scroll the wall by tilting the device left or right
Press Title Bar Menu Button - Select the item to go one deeper
Press Cooliris Logo - Go home
Finger Swipe Submenu - Slide the sub-menu items to see more
Click the Envelope - Share media via the default Mail Client
Click the Metadata - Opens the containing page web page
Click the 'i' Info icon - Shows/Hides the metadata panel
Watch the video:

Leave a comment

Another nice application became free today. The price dropped from $1.99 to $0. The app is called Record (AppStore link). This is audio and voice recorder for iPhone.
Features:
Launch and shake to start recording, or if you prefer, use the button on the lower right toolbar.
Pause and resume recordings.
Search recording titles.
Organise recordings into folders.
Setup smart folders based on keywords, or the location you recorded.
Email recordings from your iPhone (15 minute recordings or shorter).
Rename and reorder recordings.
Seek and pause during playback.
Compressed IMA4 AIFF format.
Records when iPhone is locked.
NOTE: iPod Touch 2nd Gen users will need an Apple headset with microphone to use Record.

Leave a comment

This application is developed by Jay Freeman, the creator of the Cydia. Veency is a free app that allows iPhone owners to remotely control their iPhone from PC or Mac desktop via a VNC client.
Here are some of the features:
Launch applications on your iPhone
Reply to emails, text messages, and more
Rearrange icons
Lock/Unlock your iPhone
Browse through Photos and Contacts
Of course you cannot do two finger gestures with this app. All other actions can be done with the click of your mouse. The only area in which Veency fails tragically at is when opening any video recording application on the iPhone.
This application is avaliable for jailbreaked iPhones via Cydia installer.
Be sure to restart your iPhone after installing Veency and connect to the server using a Wi-Fi connection. We recommend using UltraVNC or TightVNC to connect your Windows desktop. If you're using a Mac, we recommend Chicken VNC.
Here is a video demonstration:
Remote access software or remote desktop software is software that allows you to access a remote computer.
via readwriteweb

Leave a comment