Vote On The Nano-SIM Card Standard Is Currently Underway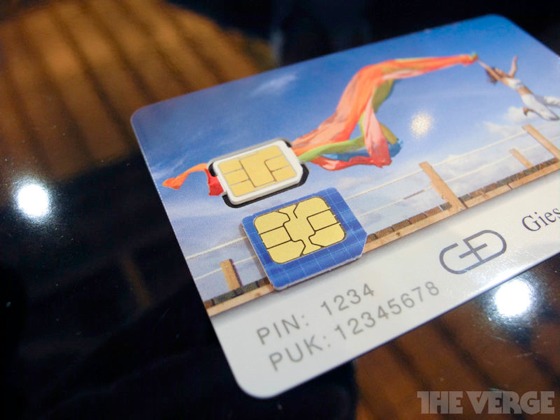 In May of last year, Apple submitted a proposal for its nano-SIM card design that would replace the current micro-SIM. However, as of couple months ago, the company was fighting with rival mobile phone makers which were pushing their own standards for SIM cards. In an effort to convince other companies to support its design, Apple has even said that they will offer royalty-free patent license to its SIM-card design.
Now The Verge reports that the vote on the next standard for SIM cards is finally underway and will be concluded by mid-May.
" Voting began for ETSI members in mid-April and wraps up in mid-May, mere days away. G&D is a voting member, though it wouldn't tell us which way it's leaning — needless to say, the presence of Apple's design here (at CTIA Wireless) signals that they'll almost certainly put their votes in that direction and away from Nokia's more radical design that limits backward compatibility with micro-SIM and mini-SIM slots on older phones".
SIM card maker G&D noted that given the nano-SIM design is being pushing by a supplier – Apple – there wouldn't be a long delay before this SIM-card design was implemented. The current micro-SIM standard took five years from approval as a standard to implementing in the iPhone 4.
Recently the next iPhone's micro-SIM tray leaked from Apple's part supplier, suggesting the company will continue to use that SIM-card standard in the forthcoming smartphone.

Leave a comment