52% of developers are using iOS 7-only app updates

Last month it was found out that very few users are ready to pay for iOS 7 app updates on apps they already owned.  Most of them would prefer to stay on iOS 6, rather than to update to iOS 7 and pay again for the apps.
Let's have at what developers think.
Craig Hockenberry, developer at Iconfactory (Twitterrific):
Like many of my fellow developers, I am in the middle of an update of an app for iOS 7. As you'd expect, it's a lot more work than previous versions of iOS. But results are stunning: both David Lanham and I have commented that our shipping version was "feeling old and clunky."

While cranking along on the update, a couple of thoughts occurred to me: how many other developers were doing the same thing and were they going to commit fully to iOS 7? The depth and breadth of the changes in iOS 7 makes it difficult to support older versions of the OS.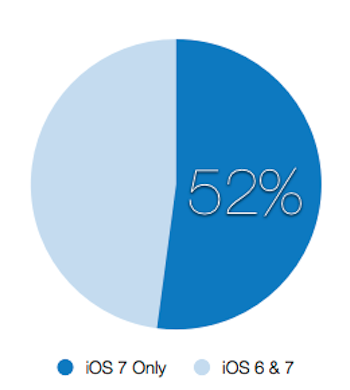 So Craig made a survey among his fellow developers to find out their preferences.  It turned out that of the 575 developers  545 were using  iOS 7 update. Among the latter, 284 said that their app updates were going to require iOS 7.
The figure is rather high, it can be compared to iOS 5 and 6 updates. Although Craig's comments above explain a lot. If one has to choose between using  iOS 7 and continue to support older versions of iOS, or vice versa, it is much better to pick the latter.
The reason is simple.  iOS users tend to upgrade their firmware, and do so quickly. According to Apple's estimations, about 94% of active users are on iOS 6 or later. Moreover, developers are always up-to-date, we may assume that by fall the majority of users will be on iOS 7.
It means that most of your favorite apps will be updated to iOS 7 soon. And those, that have not been upgraded yet, will soon be improved by developers.

Leave a comment