98% of AirPods Users Like their Headphones

According to the latest survey conducted by Experian and Creative Strategies survey, 98% of AirPods users are satisfied with their headphones. Most of these people would also recommend the wireless headphones to a friend or relative. 942 AirPods owners took part in the survey.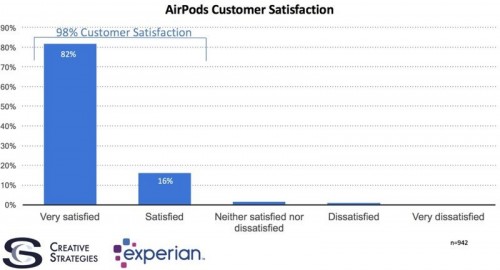 Customers name the battery life, the design of the AirPods, the simplicity of the pairing process on an iPhone and Mac as the main reasons for their satisfaction. Some say that there are some issues with pairing and connectivity, though.
Just for you to compare: the first-generation iPhone and iPad both had a customer satisfaction rate of 92% after launch in 2007 and 2010 respectively, and the Apple Watch had a customer satisfaction rate of 97% in 2015.
Apple introduced the AirPods in 2016. The headphones cost $159 are quite difficult to find. The stock is still very limited as the demand remains strong.
[via MacRumors]

Leave a comment