Apple Announced Financial Results in Q2 2017

Apple has announced the financial results in the second fiscal quarter of 2017. The quarterly revenue is equal to $52.9 billion, which is less than $50.6 billion in the year-ago quarter. International sales made up 65% of revenue.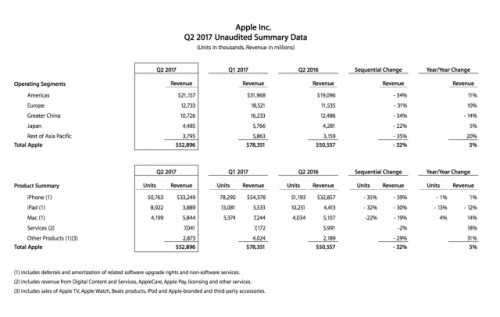 The iPhone sales are down 1% in the second quarter and account for 50.76 million units. The iPad sales are down 12% and account for 8.92 million units. Finally, the Mac sales are 14% up and account for 4.19 million units. The revenue generated by company services grew 18% compared to Q2 2016.
Apple says the demand for the iPhone 7 Plus is strong and that the company is satisfied with the financial results in the second quarter of 2017.
"We are proud to report a strong March quarter, with revenue growth accelerating from the December quarter and continued robust demand for iPhone 7 Plus," said Tim Cook, Apple's CEO.
In September, Apple will unveil new iPhones. Later this year, new iMacs, MacBook Pro, and Mac Pro units are expected to be released. All these devices may help Apple earn even more.
[via iClarified]

Leave a comment