A9 Chips from Samsung and TSMC Are Different in Size - Chipworks

As you know, Apple's iPhone 6s and iPhone 6s Plus feature a brand new A9 processor. This processor is manufactured by two separate companies, namely, Samsung and Taiwan Semiconductor Manufacturing Company. The first vendor uses a 14-nanometer manufacturing process, while the second one fabricates the chips using a 16-nanometer process.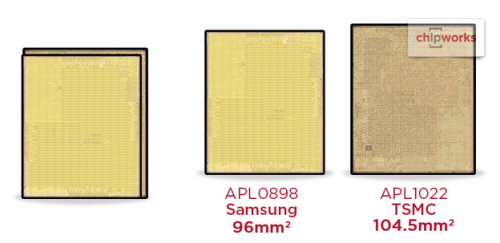 Chipworks has recently performed several iPhone 6s and 6s Plus teardowns, which confirmed that the chips inside different handsets are indeed of two types and that they are of different size. The size of Samsung's chip is 96 square millimeters and the size of TSMC's chip is 104.5 square millimeters.
Chipworks has now confirmed via several iPhone 6s teardowns that the new devices do indeed contain application processors from both Samsung and TSMC.

[...]

The APL0898 chip was developed by Samsung and measures in at 96 square millimeters, while the APL1022 chip manufactured by TSMC measures in at 104.5 square millimeters.
It is currently unknown how the difference in chip size will affect the performance of the iPhone 6s and iPhone 6s Plus. Chipworks experts are planning to benchmark new chips to find out which is more efficient.
[via MacRumors]

Leave a comment