Actual Sales of Galaxy Tab Were Found To Be "Quite Small"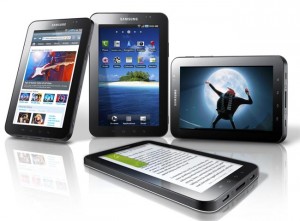 Last week Samsung has admitted that its sales of Galaxy Tab were actually "quite small".
Last year Samsung Galaxy Tab represented the first generation of Android tablets that are able to compete with iPad and are available on the market. By the end of the Q4 of 2010 the company reported it had sold 2 million units. But according to Samsung executive Lee Young-Hee, this number does not represent actual sales and only includes inventory channel stuffing.

"As you heard, our sell-in was quite aggressive and this first quarterly result was quite, you know, fourth-quarter unit [figure] was around two million. Then, in terms of sell-out, we also believe it was quite small. We believe, as the introduction of new device, it was required to have consumers invest in the device. So therefore, even though sell-out wasn't as fast as we expected, we still believe sell-out was quite OK."
As you may know, "sell-in" term means sales to channel distributors and retailers, and "sell-out" refers to the actual sales to consumers.
According to a report published by Wall Street Journal blogger Evan Ramstad, Lee did not reveal forecasts on the future sales of the tablet as it is "relatively new and we need to see how the market develops before we give any firm numbers".
Apple had started selling its iPad two quarters earlier than the Galaxy Tab became available. In its first partial quarter Apple sold 3.27 million units, 4.19 million were bought in its second and 7.33 million were sold in its third quarter. Throughout this period of time global demand for the device was always higher than supply.
Yesterday we reported that Apple's tablet market share decreased from 95% to 77% because of Samsung Galaxy Tab, but with this new information it seems like real situation on the market may differ a lot. However, Strategy Analytics appears to be the only company that took into account the number of 2 million Tabs sold in order to make some concrete conclusions.
Though Samsung believes their tablet is a successful device, many major reviews criticized it in different forms:
"not without frustrations"
"needs work"
"not exemplary"
Web application developer Sencha even found a whole bunch of technical disadvantages, which are worth reading (here).

Leave a comment