Android Phones Become More Popular Than iPhones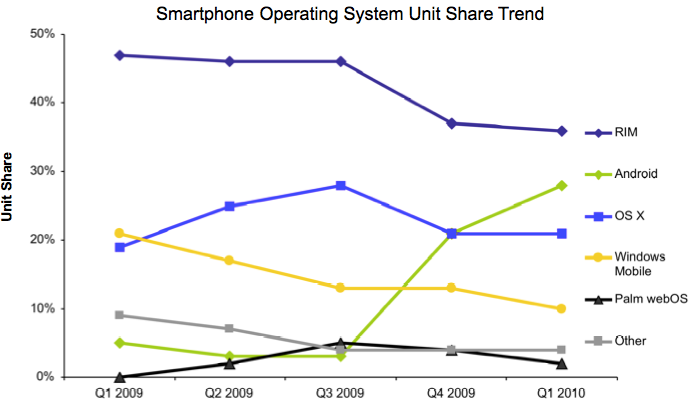 NPD Group had recently revealed their new study, which shows that iPhone OS became the second most selling OS last quarter in US. To be precise 28% of all handsets sold were Android phones, and iPhones made only 21%. Research In Motion's Blackberries hold 36 percent of market.

Apple has only two models to sell with three different capacity sizes, and they work only on one network, which is AT&T. Android is introduced in a variety of models, including the HTC Incredible, Nexus One, Motorola Droid and more. Most of them supported by few networks.
NPD's executive director of industry analysis Ross Rubin says situation is generated by Verizon's offers:
"As in the past, carrier distribution and promotion have played a crucial role in determining smartphone market share. In order to compete with the iPhone, Verizon Wireless has expanded its buy-one-get-one offer beyond RIM devices to now include all of their smartphones."
According to NPD Verizon's tactics had proved its value after successful sales of the BlackBerry Curve, Droid and Droid Eris. Only AT&T had better results (32%) than Verizon (30%) in the first quarter of 2010. 17 percent went to T-Mobile and Spirit holds 15 percent.
Rubin also says the smartphone industry has a shiny future:
"Recent previews of BlackBerry 6, the recently announced acquisition of Palm by HP, and the pending release of Windows Phone 7 demonstrates the industry's willingness to make investments to address consumer demand for smartphones and other mobile devices".
It is interesting that numbers revealed by comScore are completely different. According to their data, in the end of 2009 iPhone had only 25 percent of all mobile traffic in compare to 5 percent reached by Android-based phones.
NPD also reports that the average smartphone price in the first quarter was $151, which is 3 percent more than a year ago. The average mobile phone price increased by 5 percent and was $88.

Leave a comment