Android Tablet Revenue Overtakes Apple's iPad Revenue For First Time Ever

For the first time ever, total revenue from all Android tablets (combined) has exceeded that of Apple's iPad. According to IDC latest press release and Morgan Stanley's Katy Huberty announcement,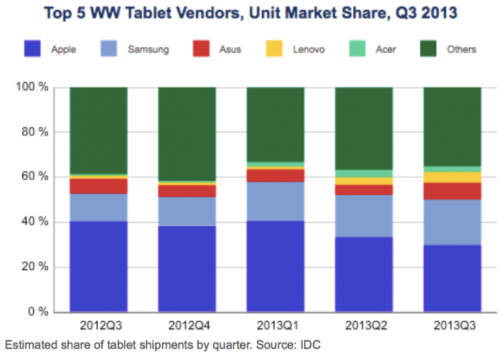 For the first time Android devices accounted for a greater share of the market in revenue terms than iOS. Android revenue share reached 46.2% in 3Q13, for the first time exceeding iPad share of 45.6%. Android's unit share grew to 66.7% from 58.5% a year ago, largely driven by Samsung and Lenovo, while iPad share declined to 29.7% from 40.2%.
Good news for Android fans, however, I don't think it's time to celebrate. Things are about to change soon. Or, to be more precise, they have already changed due to the iPad Air and Retina iPad mini releases. The number of customers who purchased one of the new iPads is growing dramatically and I bet the data on tablet sales will look far more different after the end of the holiday season.
Ming-Chi Kuo of KGI Securities has earlier predicted that Apple will sell as many as 36 million iPad units in the following quarters and you know, looks like he's right.
Tell me - are you going to buy the new iPad Air or iPad mini with Retina display? Leave your comments below the article.

Leave a comment