Some Retina iPad Minis Show Image Retention Issues

Some Retina iPad minis may show image retention issues, reports Marco Arment, a person that created a special test to detect the problem in MacBook Pros with Retina displays. Faulty IGZO-panels, according to the latest rumors, were manufactured by Sharp and this were probably these panels that caused production delays and forced Apple to release the tablet quietly.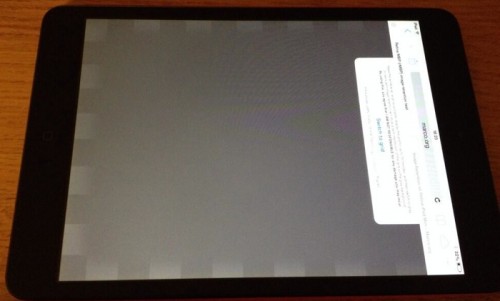 Let me try to explain you what image retention is. This is the temporary issue; the remnants of the previously-viewed windows remain visible on the screen of your device for several minutes. Look at the picture above and you'll understand what I mean.
As noted by MacRumors,
While it is unclear how many Retina iPad minis are affected by the issue, several mini owners on Twitter have discovered the problem after running the grid test.

[...]

In normal use cases, it is unlikely that the image retention is noticeable, but Retina iPad mini owners experiencing image retention are still within their return windows.
Looks like the company from Cupertino faced the same issue it used to experience last year with Retina MacBook Pros. Well, the solution to such a problem may be just the same as well - to replace all of the faulty devices with new ones.

Leave a comment