Apple Adds Games for Kids Section to App Store

Apple has today added a new category to its App Store. It is called Games for Kids and as you might have understood, it highlights best games for the youngest users. To make it easier for children and their parent choose apps, the guys from Cupertino have also divided all the games in the section into three sub-categories based on the age of users. Thus, there are apps for those who are 5 years old or under, for those who are 6-8 years old and for those who are 9-11 years old.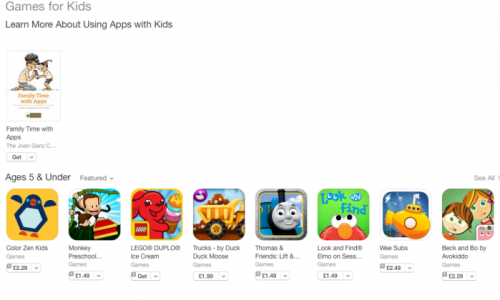 Following the dedicated Kids section added to the App Store back in 2013, Apple has now added a Games for Kids sub-section. Like its parent category, Apple has split it out into three different age ranges: 5 and under, 6-8 and 9-11.
Apart from games, in the new App Store section one will find a book called Family Time with Apps created by the Joan Ganz Cooney Center. This book will help parents choose best apps for their children, which can help in the development of their children's logical thinking and communication skills.
If you have a small child or daughter, you can check up the new Games for Kids section right now.
[via 9to5Mac]

Leave a comment