Apple Adds 'Report Junk' Option to iCloud Calendar

Apple has recently added a new "Report Junk" button to the iCloud Calendar for the web. The button allows to delete the spam invite from an unknown sender and report this user to Apple.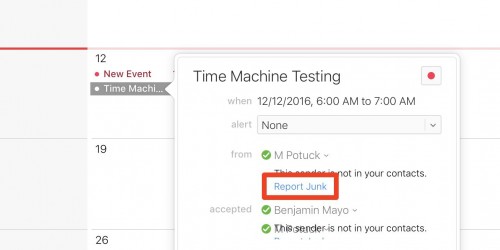 Even though the ability to report junk is currently available only on iCloud.com, soon it may appear on both iOS and macOS devices. Currently, you can report only those users that are not on your contacts list.
Over the last couple of weeks, many users have started complaining about dozens of spam calendar invites as well as about requests to share a photo album via iCloud Photo Library. Apple promised to investigate the issue and here are first results.
When the company receives a spam report, it investigates each case and blocks suspicious users preventing them from sending spam again.
Most of users who faced the problem are from the United States, though more and more complaints come from Europe, Russia, and other countries.
Have you received spam iCloud Calendar invites? Leave your comments down below.

Leave a comment