Apple Already Pursuing Minor Expansion at North Carolina Data Center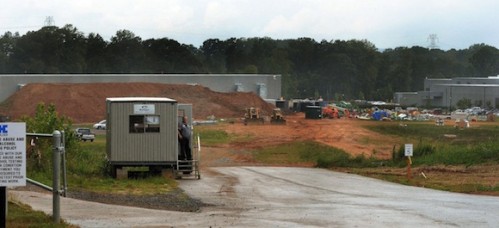 In March, Apple filed an application for permit to build a "tactical data center" to be located at the site of the company's existing data center in Maiden, North Carolina. Such tactical data center is expected to locate at the relatively small area of 20,000 square feet. The Hickory Daily Record that discovered Apple's filling now issued a new report revealing more details on Apple's plans.
According to Apple's design plans on file with Catawba County, the new 21,030-square-foot data center, also referred to as a "tactical" data center, will store clusters of servers. Permits filed with the county list the cost of the new 11-room data center at $1,885,129. [..]
The building will have, what appears to be, tight security measures even though it will be located on a site that already has tight security. The building will be equipped with "man trap" security doors at either end that will force a person to be cleared to go through an additional second door to get inside the main building space. The building also will be surrounded with an 8-foot-high chain-link security fence, according to architectural plans.
The Hickory Daily Record reported that Apple plans to build two data centers within the territory of 500,000 square feet. The rumored tactical data center is a separate project and will be a part of the existing data center.
The architectural site plans show the small data center t-boned to the 500,000-square-foot existing data center. The plans still show the footprint for a larger data center that would run nearly parallel to the existing one and would t-bone the smaller one currently under construction.

Leave a comment