Apple Became World's Largest Smartphone Maker in Q4 2014 - Gartner

According to the latest report from a research firm Gartner, in the fourth quarter of 2014 ending December, Apple managed to sell more smartphones than its main rival, Samsung. This allowed the company from Cupertino to become the largest smartphone maker in the world. As to the numbers, Apple sold as many as 74.8 million iPhone units and the South Korean manufacturer - 73 million smartphones. Apple got the market share of 20.4%, while the share of Samsung was equal to 19.9%.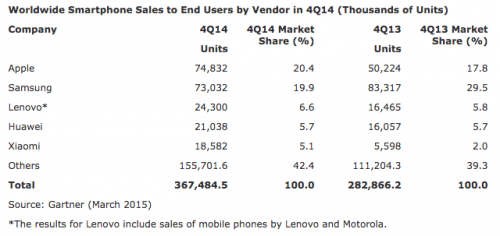 The latest numbers from research firm Gartner reveal that Apple surpassed Samsung in worldwide smartphone sales during the fourth quarter of 2014 to become the world's largest smartphone maker. Samsung lost the top spot to Apple for the first time since 2011.
Although Samsung remained the top smartphone manufacturer of the year with 307.6 million smartphones sold and the market share of 24.7%, Apple's results are also very impressive. In 2014, the guys from Cupertino sold 191.4 million iPhone units and occupied 15.4% of the market. As to the other members of the top five rating, they include Lenovo, Huawei and LG Electronics.
[via MacRumors]

Leave a comment