Apple Becomes World's Most Valuable Brand… Again

For the fourth year in a row, Apple has become the most valuable company in the world. The rating has been formed by a research firm Interbrand that takes into account a wide range of factors influencing the overall company perception, for example, its financial performance, customers' feedback, and the strength of the brand.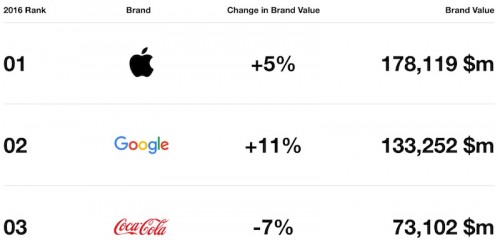 Interbrand claims that the main thing that contributes to Apple's brand value is the ecosystem connecting iPhone, iPad, Mac, Apple Watch, and Apple TV in an efficient and reliable way.
Analysts have often pointed out that "Apple has superior products." While true, this opinion undersells the brilliance of Apple's functionally- integrated model. Its software, hardware, and touchpoints are connected not just by beautiful design aesthetics, but by a level of interoperability that justifies the Apple premium and discourages defections to another platform.
Other members of the top-five list include Google, Coca-Cola, Microsoft, and Toyota. Apple's main market rival Samsung stands on the seventh place.
[via iClarified]

Leave a comment